<< Back to All News
Commemorative Air Force Expands Active Military Membership Options
March 3, 2020, Dallas –Active Military Membership eligibility in the Commemorative Air Force For many years, provided a $100 annual discount for all active U.S. military. This year, the organization has expanded this discount to apply any active military. The decision was made by CAF leadership after requests came in from people serving with the British Armed Forces, and the newly forming location in Northampton, Northamptonshire, England, United Kingdom.
CAF President Hank Coates remarked "Last summer we took aircraft on tour in Europe for the 75th anniversary of D-Day. We had so much interest and excitement around our organization's mission to educate, inspire, and honor through flight. I'm pleased at how well people responded to the CAF in Europe. Our organization is looking at what other programs and tours we can work on abroad."
This is not the first international unit/location for the Commemorative Air Force. The newly forming UK unit will join an active French and Swiss unit in Europe, and an Australian Wing. The discount applies to the Colonel Level membership which is usually $200. In order to receive the $100 Active Military Discount, new members will need to present military-issued identification documenting their active military status. To join the Commemorative Air Force you can apply online at www.CommemorativeAirForce.org or call (877) 767-7175.
About the Commemorative Air Force The Commemorative Air Force (CAF) is the world's largest flying military aircraft museum. For more than 60 years, the CAF has been dedicated to Honoring American Military Aviation through flight, exhibition, education and remembrance. Fulfilling its mission, the organization maintains airplanes in flying condition- take the airplanes to the people to experience first-hand the sight and sound of the aircraft in flight. The CAF is a non-profit educational association with more than 11,000 members and a fleet of 175 vintage military aircraft distributed throughout the U.S. For more information visit www.CommemorativeAirForce.org.
---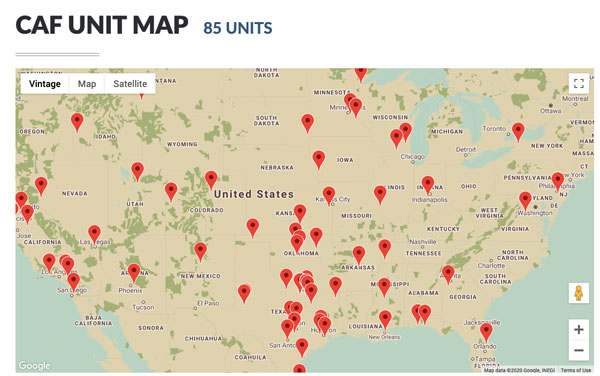 Learn more about the different unit locations of the CAF. By visiting our Unit Locator website. https://commemorativeairforce.org/units
---