<< Back to All News
Rosie the Riveter Grace Brown visits B-24 "Diamond Lil"
(October 12, 2023, Dallas, Texas)- A faithful Rosie the Riveter, Grace (Janota) Brown, visited the Henry B. Tippie National Aviation Education Center (NAEC) last week for an interview with CBS Texas, a Dallas news station. Brown worked as a machinist at the Consolidated Aircraft factory in Fort Worth, working on B-24 Liberators during the War. It seemed fitting to perform the interview in front of the CAF's B-24 Diamond Lil inside the Victor N. Agather STEM Innovation Hangar.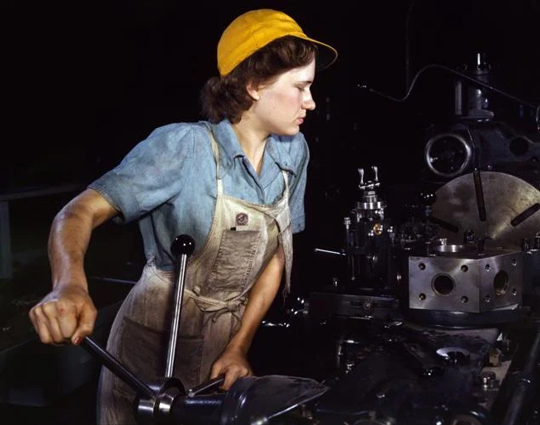 Brown was one of over 300,000 women who worked in the aviation industry in the 1940s to support the war effort. Women's involvement in the workforce was meant to be a temporary solution to fill the need for workers while many men were fighting overseas. However, after the War, many women continued working, forever changing the landscape of America's workforce.
Brown's role at the Consolidated Aircraft Factory based in Fort Worth, Texas, was captured in 1943 by a photographer and used by the U.S. Office of War Information to promote and encourage females to contribute to America's Arsenal of Democracy.
The interview was set up by Leslie Garvis of the American Rosie the Riveter Association Chapter in Fort Worth and the B-29/B-24 Squadron PIO Jacques Robitaille. CBS Texas plans to air the story on Veteran's Day.
---
In this video about the North American Aviation Plant, you can learn more about Dallas' role in Aircraft manufacturing during World War II.

---
Share this page!

---